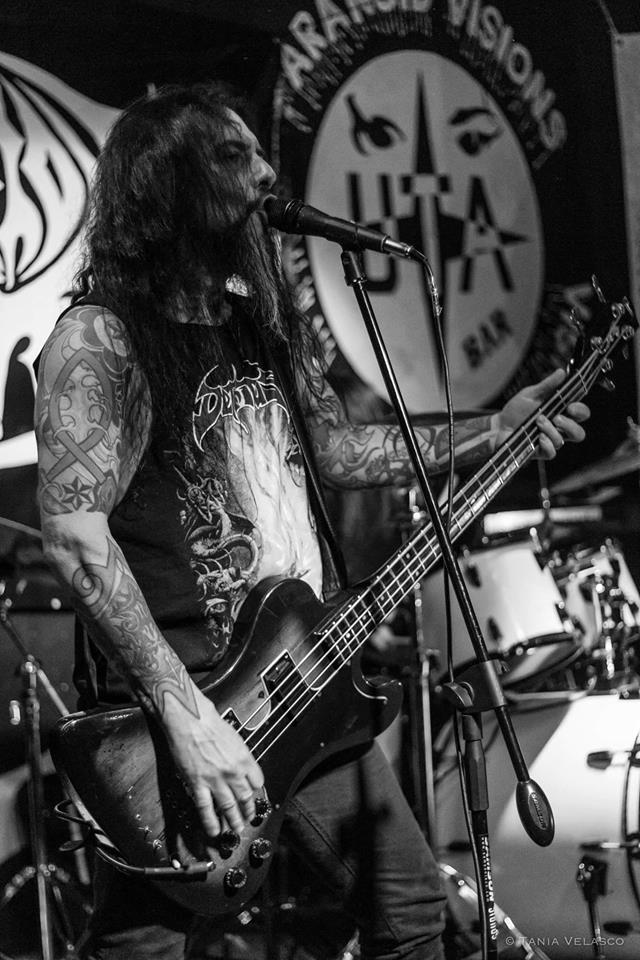 Here's an exciting new interview with Antidemon, one of the few. We discuss the new releases coming soon, signing with Vision of God Records and many other things. I hope you enjoy! One more thing before we start; I just want to credit Carlos on his English. He told me I needed to look over the interview to check his English because he didn't think it was very good. On the contrary, I found very few spelling errors. To be honest, this was probably the most grammatically correct interview I've done. Anyways, let's get into this!
Could you introduce yourself and what you do in the band and give a quick background on the band?
My name is [Carlos] Batista, Bass and lead vocals of Antidemon. It's almost 24 years of breathing and making it happen … It's more than a band. It's really my life, my mission, my legacy. Antidemon was born and exists to combine the sound we make with a convicted and true message of what we believe. We are against what is bad for humanity. It does not exist just to criticize, but to bring a possible solution to many things.
What is the band's discography?
1995 – Antidemon (Demo Tape)
1995 – Refúgio do Rock (Compilation on Vinyl.)
1997 – Confinamento Eterno (Demo Tape)
1998 – Antidemon 04 Anos (Demo Tape)
1999 – DEMONOCÍDIO
2000 – Lanceration Records (U.S.) (Compilation)
2000 – Noise for Deaf Vol. III (Compilation; Rotthenness Records)
2001 – CD booklet in TRIP magazine number 91
2001 – Noise for Deaf Vol. IV (Compilation;  Rotthenness Records)
2001 – BRASIL COLLECTION (Compilation)
2002 – BARAD with Zen Garden (Split; Rotthenness Records
and Destroyer Records)
2002 – ANILLO DE FUEGO (Recorded in México)
2004 – Antidemon Live in Palencia (SPAIN) (Tape)
2005 – EXTREME FEST – EXTREME RECORDS (BRAZIL) (DVD)
2006 – Antidemon / Empty Grave (Split Tape)
2006 – Underblood Fest Collection Vol. 1 – Underblood Productions (CD and DVD)
2009 – SATANICHAOS
2009 – Live in Ecuador, Colombia, Peru and Brazil. Exhort Metal (MÉXICO)(DVD)
2009 – ANEL DE DEMONICHAOS (Recorded live in Germany. Vomit Bucket Productions)
2010 – Nordeste Tour Satanichaos (BRAZIL) (Split)
2012 – APOCALYPSENOW (Rowe Productions)
2013 – THE MISSION (DVD)
2017 – DEMONOCÍDIO (Reissue; Vision Of God Records)
2017 – TORMENTERROR – Live in Chile (DVD; Vision Of God Records)
You have a new album coming out soon. Do you guys have a name for it? And if so, may we have it?
Yes! We are in process of composition and happy for this new goal! It will be our fifth album and we hope to add everything well acquired in these almost 24 years of road. We're still thinking of a good name for the new album. We will announce soon.
There's also a DVD coming out called Tormenterror. Could you give us a general idea about it? Like is it a documentary or live set?
In 2016, we did an incredible tour throughout Latin America and, on our way through Santiago de Chile, we were awarded a perfect audio and video structure that was covering the event. The organizer, Dago Daniel Gonzalez (Hablar en Silencio), offered us the result of this work. It was an energetic presentation of Antidemon and we actually achieved a very good quality image and sound level. The presentation is complete and worth checking out in 2017.
It coming out through Vision of God Records correct?
Yes. The Vision of God Records is releasing this DVD live.
You signed with Vision of God Records earlier this year. How has your experience with the label been so far?
It was a joy to be able to sign with Vision of God Records. We have been following their commitment and serious work and when we were invited, we had the opportunity to present our ideas and wishes about our releases and everything is happening. Recently, we had the reissue of our first album (DEMONOCIDE) that comes with new booklet, new images and two bonus tracks. Still, this year leaves the DVD to Live TORMENTERROR. And then the reissue of two more albums: Anillo de Fuego and Satanichaos and something we very much desire: the recording and release of our fifth album. In addition, the launch of various items such as T-shirts, buttons, stickers and anything that may interest those who accompany and support the work of Antidemon.
For all this, we are very motivated to be working with Vision of God Records.
You guys have been around since January 1994, (January 12th 1994, if I'm right), and have had many lineup changes, primarily guitarists. Who's in the lineup currently?
Yes! Exactly! We started it all on January 12, 1994! I, Batista, have been reminiscent since that time. Juliana Batista definitely took over the drums in 2006, so that our frequent changes in training took place more on guitars, where several guitar players have helped us in recent years. But since July 2016, Marcelo Alves is in that position.
You guys still play out. Like a lot. Do you guys ever tour out of Brazil? And if so, where?
Antidemon is also known for touring relentlessly around the planet, having already performed in 33 countries in 04 different continents: BRAZIL, MEXICO, BOLIVIA, GERMANY, SWITZERLAND, ENGLAND, ITALY, PORTUGAL, SPAIN, THE CZECH REPUBLIC, SLOVAKIA, SWEDEN, DENMARK, NORWAY, RUSSIA, SERVIA, HUNGARY, GUYANA, VENEZUELA, COLOMBIA, ECUADOR, PERU, ARGENTINA, PARAGUAY, URUGUAY, EL SALVADOR, HONDURAS, COSTA RICA, NICARAGUA, PANAMA and CUBA.
Do you have any upcoming tours?
We are a band of constant tours. We must do our sixth season in Europe. In 2018 everything is leading us to believe that it will be our first tour in the United States and in October 2018 we have an invitation to be in Indonesia.
What is the scene in the Brazil like? Are there any other Christian metal or hardcore bands in that area?
Yes … The scene in Brazil of Christian Metal and HC, is quite big … There are countless bands … Maybe only the ones I know go through 200 bands all over the country.
What bands influence you?
Those bands that are true and authentic, that do what they like and live what they say.
What are bands/artists have you been listening to lately?
A Hill To Die Upon, Grave Declaration, Ceremonial Sacred and Demoniciduth.
What was it like being signed to Steve Rowe of Mortifcation's label, Rowe Productions?
It was really a great honor to sign with Rowe Productions in 2012 for the release of our fourth album, Apocalypsenow. We are happy to record, edit and release this Album. It was also very cool to have Steve Rowe encouraging us at every step, expanding our friendship with this world metal warrior.
That's all the questions I have! Is there anything else you would like to say?
I want to thank everyone who read this interview and know a little more about Antidemon. May you not give up on your dream and do not expect things to happen on your own! There are things you have to do, you have to assume, you have to do it! Do your part and surely God will make it his. Do not doubt that He is real!
To those who want to be in contact:
Email: [email protected]
Facebook: https://www.facebook.com/ANTIDEMON.OFFICIAL
Fonte: Indie Vision Music | https://www.indievisionmusic.com/ | by Mason Beard